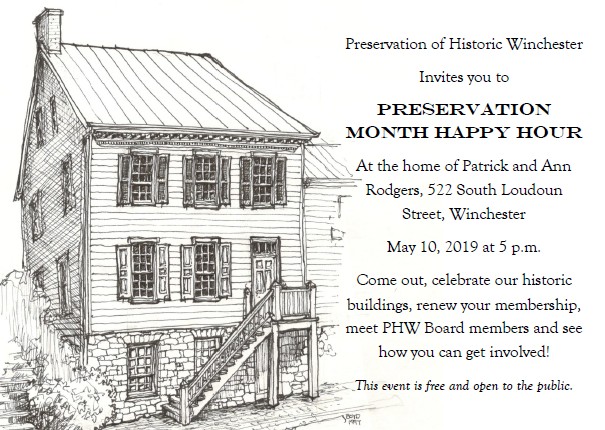 We have been so pleased with the interest shown in our happy hour event tonight, 5 PM at 522 S. Loudoun St. Just a couple notes as you get ready:
Parking is always tricky on Loudoun Street. We ask you respect private driveways as you arrive tonight. Be alert for pedestrians walking in the area from the adjoining streets.
There will be a PHW banner on the porch of 522 S. Loudoun by 5 PM so you can find the house more easily.
We will have mainly wine, craft beer, and light snacks – it will probably not be enough to replace your dinner!
If the weather cooperates (fingers crossed!), we may be able to utilize the rear yard as well for socializing.
It is perfectly fine to just stop in for a couple minutes and say hi or check on your dues. You do not have to arrive at exactly 5 PM. We will not have a program of activities so you will not miss any announcements.
We will, however, have nametags so you can put a face to a name of our current and potential new board members and volunteers. Several of our Holiday House Tour homeowners also plan to stop in tonight, so you can get an early glimpse of how our Holiday House Tour Through History is shaping up.
We will also have a few dates for you to save, upcoming events to mark on your calendars, and some of the new 275 Years of History and Architecture tour brochures for you to pick up (they are a fabulous update thanks to the work of Tim Youmans, Jennifer Bell, Renee Bayliss, and Sandra Bosley – check it out even if you have an older version!)
The PHW office will be closing up by about 3:30 so we can get set up for the event. We'll see you all tonight!