Preservation of Historic Winchester Invites You to Attend
Care and Maintenance of Historic Metal Roofs
A Lunch and Learn Lecture
June 5, 2018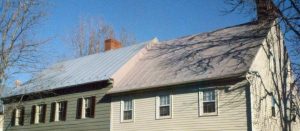 Please join us at noon on Tuesday, June 5 to hear Eric Bennung, Vice President of Acrymax Technologies, Inc., discuss the care and maintenance of historic metal roofs. Acrymax coatings have been used on countless structures around the country – assisting people anywhere from the National Park Service to personal homeowners with a tin metal roof.
We will be meeting at the Hexagon House, 530 Amherst St., in the first floor board room. We will be able to seat approximately 25-30 guests.
Date: Tuesday, June 5, 2018
Time: Noon-1 PM
Place: The Hexagon House, 530 Amherst St., Winchester, VA
Cost: Free and open to the public
Parking: The parking lot can accommodate approximately 14 cars. Additional cars may be parked in the circular driveway or on-street at Hawthorne Dr. Carpooling is recommended!
RSVP or Questions? Contact PHW at phwinc.org@gmail.com or 540-667-3577.