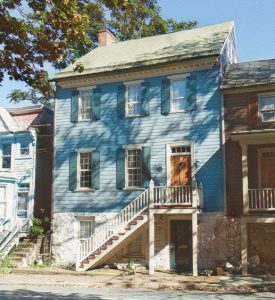 Dr. Cornelius Baldwin House
522 South Loudoun Street
The home of Patrick and Ann Rodgers
Decorations by Jenny Baker
Tradition states Dr. Cornelius Baldwin built this impressive timber-frame Federal-style home circa 1785. Dr. Baldwin was a surgeon in the Revolutionary War and the physician to Lord Fairfax. In addition to the illustrious career of Dr. Baldwin, many of his children and grandchildren continued to make names for themselves in medicine and education. Perhaps best remembered today is granddaughter Mary Julia Baldwin, the founder of Mary Baldwin College.
The Baldwin home was subsequently used as a tavern and eventually much altered, obscuring its historic charm. In 1977 it was restored to a single family residence by Tom and Katie Rockwood. The elaborate interior woodwork, corner fireplaces, and many of the original six-paneled doors have remained intact for more than 200 years.
The home will be open for Candlelight Tours on Saturday, December 2, 6-9 p.m., and Daylight Tours on Sunday, December 3, 1-5 p.m.