While we are waiting for our printed Holiday House Tour materials to arrive and tickets to go on sale, we have some thanks and our first round of information to share about the tour.
1. First, thank you to everyone who has contributed shopping bags this year for the Bough & Dough Shop. We are close to our goal, but don't let that discourage you from donating if you haven't made it to the Hexagon House yet. We will happily take them through the rest of November. As always, any unused bags from this drive are held for the next year, or recycled if the bags cannot be reused.
2. If you ever wished you could place a custom order for finished greenery at the Bough & Dough Shop, we have you covered! Nate Windle will be taking custom orders for live and artificial greenery arrangements and wreaths this year. Be sure to place an order before Wednesday, November 22 with Nate to guarantee fulfillment. Pickup will be at 315 W. Boscawen St. on Sunday, Dec. 3 between 1-4 p.m.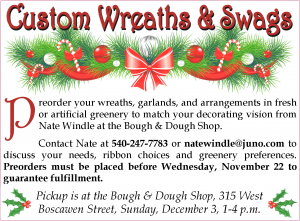 3. While we gear up for the Shop, we also want to share a special, limited edition print of the Community Food Store. This landmark of South Kent Street was demolished in 2011 after it was deemed too structurally unsound to rehabilitate, but the memory of the building lives on. The image is reproduced from a watercolor of the store from 1989 with the familiar Coca-Cola, Pepsi, and RC Cola signs and vending machines in full color. The print itself is approximately 16″x20″, printed on an acid free substrate, with foam core backing and wrapped in cellophane for easy gift-giving or temporary display. The print run was limited to less than 50, and in total we have only 36 prints available for sale. You may pick one up at the PHW office or at the Bough & Dough Shop for $75 – either way, the proceeds from the print sales will be split 50/50 between PHW and the Winchester Little Theatre.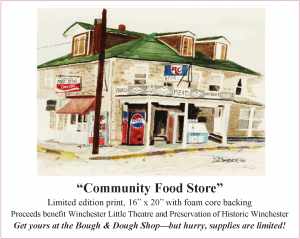 4. We expect tickets will go on sale by November 15 at the following locations:
The Final Yard, 33 East Gerrard Street
Kimberly's, 135 North Braddock Street
Wilkins' Shoe Center, 7 South Loudoun Street
Winchester Book Gallery, 185 North Loudoun Street
Winchester-Frederick County Visitors Center, 1400 South Pleasant Valley Road
And online at www.phwi.org
Tickets will also be available at the PHW Office, 530 Amherst Street, but please be mindful as the Hexagon House is undergoing some interior tune ups and we may have minor interruptions, dust, and the general hubbub of a building getting some TLC.
5. The online map to the ticket sale locations, tour stops, Bough & Dough Shop, and parking lots has been updated for 2017 and is available for viewing. We will note the houses are a bit more spread out this year than in some previous years, and the sidewalks may be challenging in some areas on Loudoun Street in particular. On-street parking will be very tight or non-existent on Loudoun and East Clifford Streets. Carpooling is recommended!
The guided walking tours on Sunday will only cover the Stewart and Washington Street neighborhood and are planned to take about 20 minutes. The tours will go past 21 South Washington Street if you want to hop off for a house tour, but they will also return to the Bough & Dough Shop if that is where you parked your car.