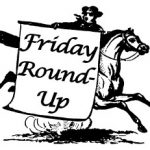 Happy Friday! We are entering the home stretch for Holiday House Tour preparation. Stay tuned for details on that event – we'll start our coverage of Holiday House Tour next week. In the meantime, we have some reminders of important dates coming up:
Saint Paul African Methodist Episcopal Church 150th Anniversary Black Tie Gala is October 28, 5 PM at the Shenandoah Valley Golf Club, 134 Golf Club Circle, Front Royal, VA 22630. Tickets are available for $50; contact Cynthia Banks at 540-539-8262 for ticket information. The following day, October 29th, the 150th Anniversary Worship Service Celebrations will be held at 10:30 AM and 3 PM at Saint Paul African Methodist Episcopal Church, 428 North Loudoun Street, Winchester, VA.
Holiday House Tour advertising sponsor slots for 2017 are due no later than 5 PM on Halloween, Oct. 31. We have room for up to two pages of interior advertising as of Friday morning. Click here for the call for advertisers post with more information. You can contact PHW at phwinc.org@gmail.com or 540-667-3577.
The Bell House Walk and Learn event is set for Thursday, November 2, noon-1 PM at the Bell House, 106 N. Cameron St., Winchester. Depending on the attendance, tours may be split into smaller groups, so the start time will likely be rolling. On-street parking is limited and most nearby spaces are metered; we suggest using the George Washington Autopark at 131 N. Kent St. There is an entrance to the autopark from N. Cameron St.
If all those activities aren't quite enough, we have some other interesting links for your reading pleasure this weekend:
The preservation of the plantation Menokin in Warsaw, VA is a case study of what to do with an important historic site that has suffered major losses. While many would have looked at the ruins as a lost cause, the plan to preserve the building is to rebuild the missing elements, but in glass. This approach will retain the historic massing but not to obscure the structure of the building which has been exposed. Thanks to Atlas Obscura for bringing the Menokin website (full of all kinds of documentary photos and research) to our attention.
The National Trust for Historic Preservation posted a summary of the findings from the Annual Report on the Economic Impact of the Historic Tax Credit. Last year was a record breaker, surpassing the 1986 record for the largest year-over-year increase (unadjusted for inflation) for completed projects. While it's on the number heavy side, it is useful information to have when talking about historic tax credits and their impact not just on saving old buildings, but creating jobs, too.
Last, just for fun is Every Apple You Eat Took Years and Years to Make by Sarah Laskow on Atlas Obscura. The story is a peek into the work happening in an experimental apple orchard to find the elusive perfect apple – hardy, tasty, and beautiful. While not preservation-related per se, apples are an important piece of Winchester's cultural heritage, going back to Winchester's own research laboratory.