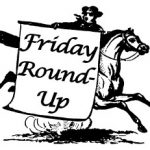 Happy Friday! It's been a busy week at PHW, so here's what we've been up to:
We have added five images from the Walk and Learn tour we hosted in conjunction with the Clowser Foundation at the Clowser House last Saturday to our Flickr account. Thank you to everyone who came out and saw the house and heard about the efforts so far to save it. The Clowser Foundation needs your support – they are still fundraising for their efforts to repair the back wall before June 2018. You can learn more about their organization at their website and Facebook page.
We had some good questions on the historic farming uses at the Clowser House. As we learned on Saturday, the Clowser family ran a mixed farm with wheat, corn, cattle, pigs, and other crops and livestock. Although not specific to the Clowser family, you can learn more about agriculture in the Shenandoah Valley before and during the Civil War at Shenandoah Valley Battlefields Foundation.
In Winchester news, we know many people have been awaiting word on the overhaul of the Board of Architectural Review Guidelines. The revised document, which has been in the works for about a year and a half, was presented at the September 26 City Council work session. It appears very likely the new guidelines, which allow for some additional flexibility with non-traditional materials, will be adopted on Tuesday, October 10. You may review the agenda and packet through the city's website.
In Holiday House Tour news, we still have spaces available for interior full page, half page, and business card ads. You can learn more on the sizes and benefits of the ads here. If you are interested in reserving a spot, please let us know at phwinc.org@gmail.com or by calling 540-667-3577 before October 31.
We also took a few moments this week to update our GuideStar profile and reach their Silver rating. This has also opened up a new donation option for us on the GuideStar webpage. You may use the donation link under our logo as an alternate way to make online donations to PHW. Thank you in advance!