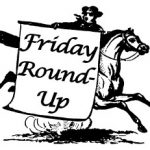 Happy Friday! There is a lot to cover this holiday weekend. First, the Celebrating Patsy Cline Block Party will be held Saturday, September 2 in front of the Patsy Cline House at 608 S. Kent St. The block party is free but tours of the house are $5. A special exhibit will be presented of an item that has not been on display before at the house. Attendees are asked to bring chairs to the event. For more information, call 540-662-5555 or visit their website.
For Friday Photos this week, we found some reference photos for the house art from Holiday House Tour 2003 and 2004. The houses are primarily on North Braddock Street, Washington Street, and Stewart Street. Check out the the 23 photos at the top of our Flickr photostream.

From the National Trust comes the August and early September outlook for the Historic Tax Credit. There is information in the blog post about how to add your business or organization to a letter of support for the historic tax credit, how to check if your representative is a cosponsor for the Historic Tax Credit Improvement Act, and information on how to sign up for a webinar on the historic tax credit September 21 at 2 p.m.
From CityLab comes the article An Architectural Rescue Gone Wrong by Mark Byrnes. In short, it is a familiar story on the struggles of preserving the recent past for "ugly" buildings that don't seem to mesh well with a "traditional" city. In an even more familiar refrain, in trying to please everyone, it seems no one is completely satisfied with the efforts to save Paul Rudolph's Brutalist-style Orange County Government Center after decades of deferred maintenance and hurricane-related damage.
Last, A Short History of Fire Marks, The World's Hottest Insurance-Related Antiques from Atlas Obscura is a five minute introduction of some various crests, why they were used, and resources to identify them in case you find one in your architectural travels.
Happy reading, viewing, and listening this weekend!