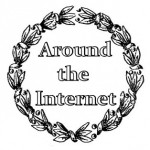 Happy Friday! We have a mix of links and history to share with you this week that we found interesting, without a particular theme.
Next City put together a list of 7 Podcasts Urbanists Should Be Listening to Now. For historic preservation focused topics, try the recommendations from Preservation in Pink, HiFi History, Strong Towns podcasts, Historic Preservation by the National Park Service, and National Center for Preservation Technology and Training podcasts. Let us know if you have come across any other good podcasts on history and preservation related topics.
For something off the beaten track, this article at Atlas Obscura on an almost forgotten mycologist Mary Banning had a surprise Winchester connection. Banning worked in near isolation cataloging and illustrating fungus around her native Maryland for twenty years. Her life's work was sent to a leading scientist in the field, but was lost and forgotten for 100 years. While the tale alone is worth a read, it was most surprising to see that in her final years, Mary Banning lived in a boarding house in Winchester.

A quick look in the 1900 census records confirms she was living at 127 North Cameron (then Market) Street. The house was originally the home of William "Bake" Miller before its conversion to a boarding house by sisters Martha (Mattie) and Virginia Wall (1, 2). By the 1900 census only Martha was still alive to run the boarding house. Martha's brother and bookstore proprietor Thomas Wall and his wife were in residence, along with Mary Banning and four more boarders. An obituary for Thomas Wall which ran in the Alexandria Gazette on January 15, 1917 mentions his book and stationery business, but mostly recounts his close call with General Sheridan and his service delivering mail through the Shenandoah Valley during the Civil War.
Finding these small connections not only brings to light the amazing stories of the former occupants of a relatively obscure historic Winchester building, but also grounds those tales to a physical location which still exists and can be seen and visited today.