Das Swartzenreader Haus
314 Courtfield Avenue
Beth Reader and Chuck Swartz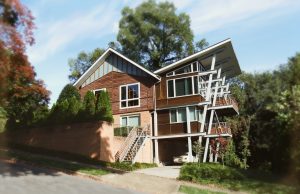 Originally an ordinary two-story house built in 1968, this home has been transformed by the husband and wife architectural team Reader & Swartz Architects. Although the house had an excellent corner location with an amazing view of the Blue Ridge Mountains, there was virtually no way to appreciate it due to the boxy, conventional floor plan and the minimal number of small windows.
While ultra-modern at first glance, the skeleton of the old house can still be seen in the new design. The outline of the old gable roof on the main block can be seen in the line of the new clerestory windows. Existing studs on the gable ends were retained and stripped to support the new library shelves, accessed on one side by a rolling ladder salvaged from an old telephone building, and on the other by an alternating tread staircase. The three-story, inverted shed-roof addition is made of glass, exposed structural steel, and cedar. The dramatic design created an open, light-filled loft space, which takes advantage of the views of the Blue Ridge Mountains to the east.
Das Swartzenreader Haus will be open for the Saturday evening Candlelight Tours 6-9 p.m., and the Sunday Daylight Tours from 1-5 p.m. On-street parking in this neighborhood is limited; please be mindful of residents' driveways while parking for the tour.
Please take a moment to thank the Holiday House Tour Advertising Sponsor Eugene B. Smith Gallery for supporting PHW and local preservation!