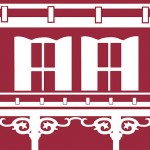 As you may know, June is the Annual Meeting month at PHW. We mark the start of our 52nd year at the Hexagon House, 530 Amherst Street, on Sunday, June 12. The annual business meeting including election of board members and presentation of the 2016 PHW Preservation Awards begins at 2 PM. Following the business meeting, we will enjoy a light reception, homebrew brews, and (weather permitting) lawn games. This event is free to attend, but voting at the business meeting is restricted to dues-paying PHW members.
Date: Sunday, June 12, 2016
Time: 2-5 p.m.
Place: The Hexagon House, 530 Amherst Street, Winchester, VA
Cost: Free for PHW members and invited guests
Shortly thereafter, we will enjoy our last "spring" Lunch and Learn Lecture of 2016 with "The Origin of Winchester Street Names" presented by Timothy Youmans, Director of Planning for Winchester City.
Date: Thursday, June 16, 2016
Time: Noon-1 p.m.
Place: OakCrest Companies, 126 N. Kent Street, Winchester, VA
Cost: Free and open to the public
Lunch: Bring your own lunch
Parking is limited and on-street parking is metered; we recommend utilizing the George Washington Autopark, across the street from OakCrest.
We hope to see you at one or both events!