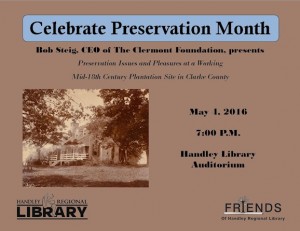 May 4:
Handley Regional Library is celebrating National Preservation Month with an exciting presentation about a plantation in our district. The program,
Preservation Issues and Pleasures at a Working Mid-18th Century Plantation Site in Clarke County
, will take place on Wednesday, May 4, 2016 at 7:00 p.m. in the Handley Library Auditorium, 100 W. Piccadilly St. This presentation is being sponsored by Friends of Handley Regional Library and The Clermont Foundation and will be led by Robert Steig, CEO of The Clermont Foundation. There will be a reception following the presentation.
The Clermont Foundation funds and manages Clermont Farm, a 360-acre research and training site in history, historic preservation, and agriculture, owned by the Department of Historic Resources of the Commonwealth of Virginia. The farm and the foundation were a gift to the people of Virginia by Elizabeth Rust Williams in 2004.
Robert Steig as CEO of The Clermont Foundation, has been integral in the success of recent programs such as the rehabilitation of the farm's slave quarters and a partnership to help kids raise pigs. Mr. Steig is also very active in the Berryville community, leading the fight to properly represent the first free African-American land owners on Josephine St.
For more information contact Barbara Dickinson at 540-662-9041 ext. 31 or reach her by email at friends@handleyregional.org.