May is creeping ever closer, and that means National Preservation Month activities are in planning. Here is a selection of events we know about coming in May: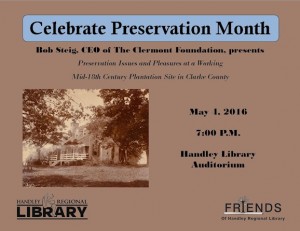 May 4:
Handley Regional Library is celebrating with an exciting presentation about a plantation in our district. The program,
Preservation Issues and Pleasures at a Working Mid-18th Century Plantation Site in Clarke Count
y, will take place on May 4, 2016 at 7:00 p.m. in the Handley Library Auditorium, 100 W. Piccadilly St. This presentation is being sponsored by Friends of Handley Regional Library and The Clermont Foundation and will be led by Robert Steig, CEO of The Clermont Foundation. There will be a reception following the presentation.
The Clermont Foundation funds and manages Clermont Farm, a 360-acre research and training site in history, historic preservation, and agriculture, owned by the Department of Historic Resources of the Commonwealth of Virginia. The farm and the foundation were a gift to the people of Virginia by Elizabeth Rust Williams in 2004.
Robert Steig as CEO of The Clermont Foundation, has been integral in the success of recent programs such as the rehabilitation of the farm's slave quarters and a partnership to help kids raise pigs. Mr. Steig is also very active in the Berryville community, leading the fight to properly represent the first free African-American land owners on Josephine St.
For more information contact Barbara Dickinson at 540-662-9041 ext. 31 or reach her by email at friends@handleyregional.org.
May 14: Kidzfest returns to the downtown walking mall in Winchester in 2016. As you may remember, for the past two years PHW ran separate Preservation Month activities on the day of Kidzfest. This year, PHW has applied for a space at the event to provide a fun, free, and educational activity with an architectural slant. We will provide coloring activity sheets covering a variety of architectural styles, suitable for the entire family to explore buildings, history, and color together. Historic color information will be available if you want to try an accurate paint scheme, or you can let your imagination run wild and color a house however you would like. More details will be available closer to the event.
May 14: Fort Loudoun Day returns at the site of Washington's Well at 419 N. Loudoun Street from 10:00 am – 3:00 pm. The French and Indian War Foundation commemorates this period in our country's history each year at the site of the original Fort Loudoun. The event includes interpreters of the history of the era and gives visitors an opportunity to learn about the history of the frontier, the people who settled the Shenandoah Valley and the conditions in which they lived. Visit their website at FIWF.org to learn more.
Throughout the Month:
Experience Old Town Winchester with three Historical Springtime Scavenger Hunts. They start April 9, so you can get a jump on exploring Old Town!
Cemetery Tours are offered on a recurring basis by Northern Virginia Tours. The tours begin at Winchester National Cemetery and continue at Stonewall Cemetery. You have the option of touring one or both cemeteries. $8.00 per person for one tour, $15.00 for both tours.
A Savory Taste of Winchester: Culinary Food and Wine Tours are currently ongoing, but Preservation Month is the perfect excuse to visit popular Old Town restaurants. In between the tastings at six locations, learn about Old Town Winchester's history dating back to the 1600s. Reservations are required by 8 p.m. the day prior to the tour.
Last but not least, PHW is accepting nominations for our local preservation awards. If you know of a person or project worthy of recognition, why not send in a nomination form? It is free and it helps to get the word out to the community about projects that are making a difference in our streetscapes and knowledge of architecture and history.