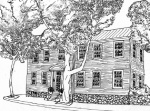 101 North Washington Street
The Long House
Home of Mr. and Mrs. Thomas Rockwood
Mary Scully Riley, House Chair
Built around 1785 by Robert Long I, this frame house occupies the corner lot at North Washington and Amherst Streets. Sheathed in clapboards, many neighbors recall when it was covered in a 1920s pebbledash stucco. The Rockwoods received a PHW Award of Merit in 2007 after they removed the stucco to expose the original façade. A library has been added to the two-story ell on the north side. This vernacular Federal style home welcomes visitors through its multi-paned front door to the main hallway graced with a carved newel post, delicate stairway and carved plaster ceiling medallion. The Rockwoods' home is furnished with art and collectibles from both sides of the family. The furnishings include several 1800s pieces.