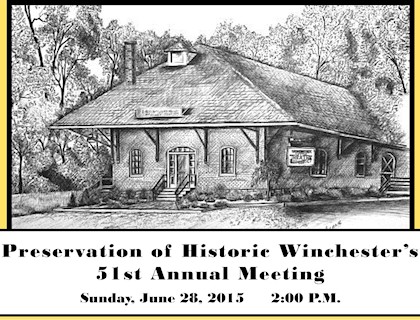 Join PHW as we celebrate another year of historic preservation in Winchester. The business portion of the meeting features an overview of the past year, election of board members, and presentation of the 2015 Preservation Awards. The Winchester Little Theatre team will then bring you up to date on the work and progress at the Little Theatre. Afterwards, stay for an afternoon of socializing, refreshments, and building tours. WLT will have slates for sale, which can be purchased for $10 each and signed. Much like other projects which used engraved bricks for sidewalks to raise funds, your signed slates will be used on the actual roof at the Pennsylvania Freight Station.
Date: Sunday, June 28
Time: 2:00 PM
Location: The Winchester Little Theatre, 315 W. Boscawen St.
Cost: The event is free for current PHW members and invited guests. Need to join or renew your membership? Visit our membership page for more information.