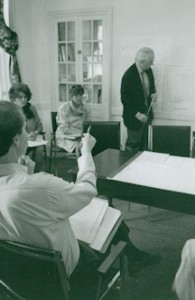 First, mark your calendars; PHW will hold its 51st Annual Meeting at the Winchester Little Theatre on Sunday, June 28. The meeting recaps the past year, recognizes preservation efforts in Winchester and Frederick County (you can nominate a person or project for consideration, by the way!), and in general is a laid back social event on a Sunday afternoon.
As you may know, PHW elects board new board members at the Annual Meeting, and we are looking for energetic members to step up and join the board. There are a few things to know about being a board member:
1. You must be a member of PHW in good standing (i.e., you pay your membership dues).
2. Members are expected to attend board meetings, which are currently held on the second Monday of the month, 7 PM at the Hexagon House.
3. Board members are elected in two-year terms (so new members elected in June 2015 would be up for reelection in June 2017).
If you are interested in joining the PHW board, please contact PHW's President John Barker the PHW office at (540) 667-3577 or phwi@verizon.net to set up a time to discuss your interest and learn more about joining PHW's Board of Directors.