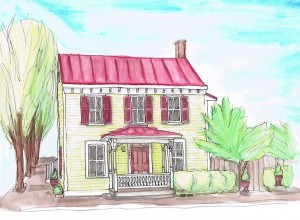 221 South Cameron Street
The Home of Eugene and Sarah Smith
This house sits on part of Lot 202, which was granted to (Johann) Adam Haymaker, an immigrant from Hachenburg, Germany, in 1759 from Lord Fairfax. The Haymakers were primarily gunsmiths and blacksmiths, but also boasted skilled mechanics and carpenters in the extended family. In Adam Haymaker's will of 1808, Lot 202 was subdivided and the portion along Clifford Street was given to his grandson, also named Adam, to be held in trust until his twenty-first birthday by Christiana Haymaker. It is presumed the house at 221 South Cameron was built by this Adam Haymaker circa 1820. Later, the log structure was imbued with Italianate style through the addition of brackets and a porch with turned posts and sawn balustrades.