The Chamber of Commerce moved into their new office space in the Hollingsworth Mill in the summer of 1987, leaving the Kurtz vacant and in immanent danger of demolition for a plaza around the Joint Judicial Center. (1) The first foray was a petition to City Council to incorporate the Kurtz into the plaza designs.(2) The petition did not seem to gain much traction with the Municipal Buildings Committee, so PHW shifted focus to coming up with a new and relevant use for the building.
As part of PHW's strategy to save the Kurtz, the organization leased the space and did some minor cleanup and partition wall removal to help people better visualize the interior space. Countless hours of meetings with many other nonprofits and community organizations went into planning for the April 1988 deadline to present a restoration plan to City Council. The idea to save the Kurtz seemed to split the town's sentiment's almost evenly, as this building did not have the grandeur of the lost Conrad House or the emotional connection of Old John Kerr. Selling the preservation plan of a warehouse did not lend itself as easily to a sense of urgency and need. Even the building's intriguing Victorian era additions, its status as the last trace of the commercial center that used to be focused on the land around Rouss City Hall, and its potential to serve as a downtown arts hub was not a draw. (3)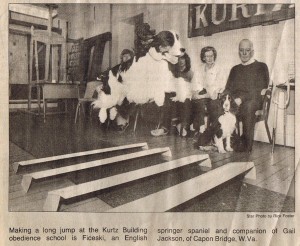 Knowing that a strong understanding of the facts was vital to make the case for the building's retention, PHW partnered with Warren Hofstra to produce oral histories focusing on the Kurtz Building.(4) (5) At the same time, PHW in turn leased the space to other organizations to show the building still had more potential years of service left in it. Perhaps the best remembered of those was the Shawnee Kennel Club, which used the space for winter training and socialization space.(6)
Even as public opinions started to change on the Kurtz, the deadline to present to City Council drew ever nearer. We will continue this tale next week.