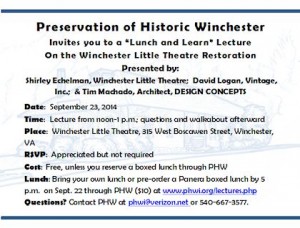 PHW kicks off the fall lecture series with a "field trip" to the Winchester Little Theatre, 315 W. Boscawen St. starting at noon on Tuesday, September 23.
Learn about the history of the Winchester Little Theatre and the ongoing restoration project with a three part presentation by Shirley Echelman, Winchester Little Theatre; David Logan, Vintage, Inc.; & Tim Machado, Architect, DESIGN CONCEPTS.
For those who are able to stay past the lunch hour lecture time, a question and answer session as well as a walkabout of the building to see the work up close (including an example of lime mortar repointing) will be offered.
Date: September 23, 2014
Time: Lecture from noon-1 p.m.; questions and walkabout afterward
Place: Winchester Little Theatre, 315 West Boscawen Street, Winchester, VA
RSVP: Appreciated but not required
Cost: Free, unless you reserve a boxed lunch through PHW
Lunch: Bring your own lunch or pre-order a Panera boxed lunch by 5 p.m. on Sept. 22 through PHW ($10)
Lunch reservations are now closed. Thank you!
Questions? Contact PHW at phwi@verizon.net or 540-667-3577.