Preservation of Historic Winchester is pleased to announce the locations of the 31st annual Holiday House Tour. This staple of Winchester's holiday celebrations will take place on December 1st and 2nd with 6 homes and historic buildings in and adjacent to the Historic District. Click here for a brochure. The Preview Party and Candlelight Tour will be held 6-9 p.m. on December 1. The Party will be held at 119 S. Washington Street, the home of Walter Jackson Helm, Jr. Tickets to the Preview Party are $35 per person and require advance registration. The Daylight Tour on Sunday will be held noon to 5 p.m. Advance tickets may be purchased for $15, or $20 at the door on the day of the tour. Children twelve and under are $6. Advance tickets will be sold at Kimberly's, The Country Store, The Final Yard, Celebrate!, Winchester Book Gallery, and the PHW office at the Hexagon House.
PHW would like to thank the sponsors of the event – The Adams Companies, Wachovia, BB&T, First Bank, MakeNest Interiors, and Virginia National Bank – for their support in enabling another successful tour. Special thanks also to The Final Yard for funding of the poster printing, and to Kimberly's, The Country Store, The Final Yard, Celebrate!, and Winchester Book Gallery for their donation of time and energy to handle ticket sales. Last, but not in any way least, thank you to the innumerable volunteers who helped pull the event together. It wouldn't be possible without you!
225 West North Street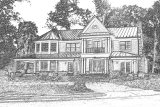 Chad Bales and Lori Fountain Bales House
Bruce Downing, House Chair
The Monmouth Street Mardi Gras Ladies, Decorators
Chad and Lori designed their newly built home to fit in with the neighboring historic houses. From the preservation of a stately 200 year old tulip poplar, to the use of natural materials throughout—they have adapted their modern, spacious home to its gracious neighborhood. The outdoor fireplace, gourmet kitchen, radiant floor heating and multiple exterior porches are just some of the highlights of this lovely residence—uniquely crafted by Fountain Homes. Chad, Lori, and their children are looking forward to spending their first Christmas in their new home.
465 Glen Lea Court

Tom Dillon and Margaret Galloway House
Richie Pifer, Jr., House Chair
Decorations by the homeowners
Built in 2004, this Ryan Home design boasts over 7000 square feet of living space on three levels. Many extras include a side solarium, a quiet and cozy sunroom, a morning room off the kitchen and three gas fireplaces. Hardwood flooring and ceramic tile grace the main living areas. Commercial grade appliances and granite countertops make the kitchen a gourmet chef's delight. Many antiques and family heirlooms can be found throughout the house as well as artwork from local and national artists.
441 Glen Lea Court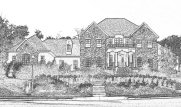 Les and Sabra Veach House
M.J. Stinson, House Chair
Decorations by the homeowners
This three year old home was designed by the homeowners in the French Traditional style. Les Veach drew the working construction plans of the home, an unusual accomplishment. The stucco home can claim the honor of being the first all steel frame construction in a residential building in Winchester. The interior of the 5000 square foot structure boasts exotic wood floors, a paneled handmade library, an entry hall with double staircase, luxurious master bath, and a gourmet kitchen to satisfy Les Veach's Culinary Institute of America training. A recently completed pool house, four car garage, and spectacular landscaping complete the home's elegance.
420 Glen Lea Court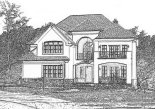 Dr. Richard and Annoica Ingram House
Susan Wright, House Chair
Paul C. Miller, MakeNest Interiors, Decorator
The Ingram home is composed of bold, contemporary forms, blended with traditional elements from Northern European architecture. A collaboration between architect John Massie and the homeowners, the house has a quality of warmth and candor that has been maintained by builders Greg and Steve Ritter. The main level of the home amplifies this warmth with the use of Red Ironbark floors, prized for its durability as well as its auburn beauty. The custom cherry cabinetry in the library was designed by Paul Miller of MakeNest Interiors and was inspired by elements of Maymont Park, an historic estate in Richmond, Virginia. The interior color palette accentuates the hardwoods, while cool aqua tones provides contrast and visual clarity. The textiles and the wall covering of the stairwell, along with furnishings selected for the interest of their silhouettes, create a design tapestry that is difficult to define yet easily likeable.
205-213 North Cameron Street

The City Meat Building
Reader & Swartz Architects and Water Street Design
M.J. Stinson, House Chair
Decorations by the owners
Historical research revealed a long mercantile life for this property, housing meat markets, grocery stores, and furniture stores. When the owners purchased the building, it was architecturally unremarkable and unembellished, other than the heavy Victorian cornice on the street front facade, and a large, gable framed skylight on the upper level. The exterior was restored with a new first floor storefront, based on photos from the 1950's and enhanced by light-reducing fabric scrims depicting a 1930's butcher shop. The interiors were executed with a modern approach, with new wood and glass walls, gypsum wallboard, and exposed structural steel. An arbored roof deck at the top was designed as a small scale modern counterpoint to the old structure. Light reaches the lower levels through cracked glass floors, which are lit from above by clerestory windows and a skylight.
145 Baker Street


Habitat for Humanity
Dr. Cee Ann Davis, House Chair
Brookie Phillips, Decorator
Built between 1888 and 1897, this building is the only remaining limestone warehouse in Winchester. Baker and Co. Wholesale Grocers built and used this structure to receive and distribute grocery merchandise from the adjacent railroad line. After changing hands several times, the property fell into disrepair and was purchased by Habitat in 2000. Many area businesses donated materials and services to complete extensive renovations, resulting in the new permanent offices and warehouse for our local Habitat for Humanity affiliate. For information on donations and support, contact jweiss@habitatwfc.org.
Bough and Dough Christmas Shop
Centre Friends Meeting House, 203 North Washington Street
House Chairs Darla McCrary and Mary Riley
The Shop offers fresh cut greenery—including boxwood, magnolia, and holly—for your holiday decorating. Baked goods, including gift tins of Neiman-Marcus cookies, and handicrafts from local artists are available for gift-giving. Returning this year are book signings of More Images of the Past as well as complimentary hot chocolate and coffee. No admission is required to the Bough and Dough Shop. Stop by on Saturday, December 1 between 10 a.m. to 5 p.m. or Sunday, December 2, from noon to 5 p.m.
Preview Party House and Candlelight Tour
119 S. Washington Street
The home of Walter Jackson Helm, Jr.
House Chairs Howard Kittell and Franklin Wright
Decorator Lynn Robinson
Miss the crowds and enjoy a special candlelight tour of the homes on Saturday, December 1 from 6 to 9 p.m. The preview party will be held in the home of Walter Jackson Helm, Jr. RSVP for the preview party by 11/30/2007 by calling 667-3577 or purchasing the special Candlelight Tour tickets at any of the ticket sale locations.