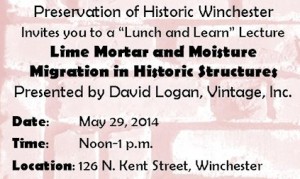 Finish National Preservation Month with this informative seminar. Preservation of Historic Winchester invites you to a the next "Lunch and Learn" Lecture on Lime Mortar and Moisture Migration in Historic Structures, presented by David Logan of Vintage, Inc. As always, this lecture is free and open to the general public.
If you are unable to attend the lecture in person, a video of the event will be posted to PHW's YouTube account at www.youtube.com/user/PHWInc.
Please note this lecture will be held in the cellar of the Lewis-Jones Knitting Mill, 126 N. Kent St., not in the Educational Center.
Date: May 29, 2014
Time: Noon-1 p.m.
Location: The Cellar of the Lewis-Jones Knitting Mill, 126 N. Kent Street, Winchester, VA
RSVP: Appreciated but not required
Cost: Free, unless you reserve a boxed lunch through PHW
Lunch: Bring your own lunch or pre-order a Panera boxed lunch by 5 p.m. on May 28 through PHW ($10) at www.phwi.org/lectures.php
Questions? Contact PHW at phwi@verizon.net or 540-667-3577.
Lunch RSVPs are closed. Thank you!