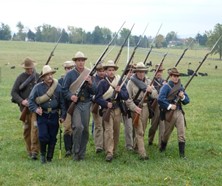 Opening weekend at the Kernstown Battlefield is this Saturday and Sunday, May 7th and 8th! Please meet at the Visitors Center for the regularly scheduled battlefield tours on Saturday at 11 am and 1 pm. In addition to tours of the battlefield, the 1854 Pritchard House, the museum and artillery building, the Liberty Rifles will be presenting a living history all weekend. The living history event's interpretation will focus on May of 1861, and the organizing of local Winchester citizens into state service following Virginia's secession from the Union. The participants will represent volunteers who would eventually muster into Confederate service as Company D, 33rd Virginia Infantry. These men, largely from the Winchester area, would serve in the Stonewall Brigade and fight at both Kernstown battles.
Time: Early May until the end of October
Saturdays from 10 am to 4 pm
Sundays from 11 am to 4 pm
Place: 610 Battle Park Dr., Winchester, VA 22602
Tours Include: The battlefield, the 1854 Pritchard House, the museum and artillery collection. For those in need, a golf cart is available to lend assistance.
Cost: All programs are by donation.
Other Information: The Kernstown Battlefield Association is an all-volunteer, non-profit preservation organization. Tours can be arranged throughout the year by contacting the KBA. They have a gift shop with diverse items for purchase, and can accept checks and credit cards.
For more information visit www.kernstownbattle.org or Facebook, or by phone at (540) 869-2896 or (202) 302-9129.