As the end of the first round draws near, another house tour moves on through the bracket. A Candlelight Christmas (1982) bested Yesteryear & Beyond (2011). Now it's up to you to choose which tour will face off against it in the quarterfinals. Will it be 2013's Stroll on Stewart Street, or 1988's Christmas in the Country? The choice is yours! Here is the updated bracket: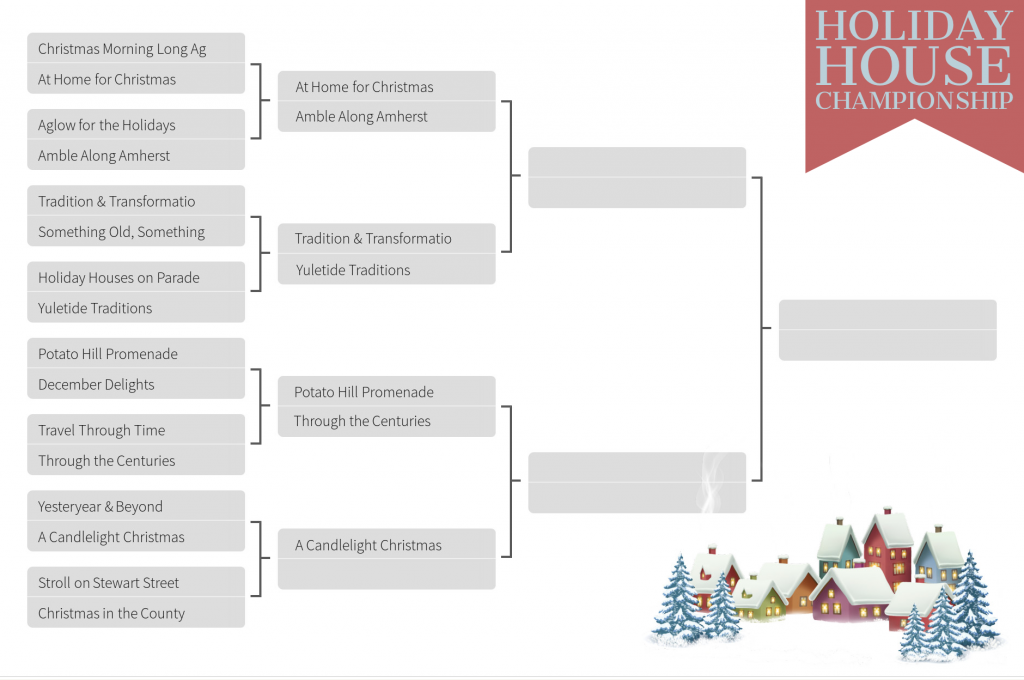 It's time for you to choose the final tour that will advance to the quarterfinals. Your choices are Stroll on Stewart Street (2013) and Christmas in the Country (1988). You can refresh your memory on the tours here, and take the poll when you're ready. Voting is open to anyone. The poll will be open until Wednesday, September 23, and results will be posted in the September 27 blog post. Have fun, share the poll and don't forget to leave comments or replies on the social media channel of your choice that might persuade voters to your favorite tour.
Create your own user feedback survey
The quarterfinal voting starts next Friday. Our first match is "Holiday Houses on Parade" versus "Amble Along Amherst." The outcomes may be close as the competition heats up, so be sure to cast your ballot for your favorite tours. The choice of the Holiday House Tour Champion is yours!