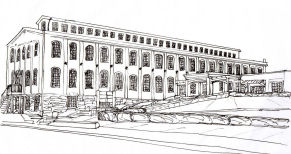 The Lewis Jones Knitting Mill
120-126 North Kent St.
Chairmen: John Barker and Richie Pifer, Jr.
The Lewis Jones Knitting Mill was constructed in 1895 for the production of cotton knit goods. Founded by Lewis Jones, Sr. of Philadelphia and Albert Baker of Winchester, it was the only cotton mill in Winchester. The rehabilitation of the Late Victorian-era brick building by Oakcrest was based around preserving the original brick and timber construction structure. All interior and exterior brick and wood timbers were restored to their natural finish.
The Knitting Mill will be open only on Saturday evening 6-9 p.m. as the site of the Preview Party. Costumed carolers from the Winchester Little Theatre will enliven the party with seasonal music. Make sure you RSVP by 12/2/2011 to join the fun!