Have you attended the Insight Academy? The next round of events begins in January. Read more about the purpose and activities of Insight Academy and learn how to register at the city's website.
The Bough and Dough Shop officially opens in one week! Due to a number of feedback suggestions last year, the Shop will be open until 6 PM on Friday, November 22 and Saturday, November 23. There will also be extended evening hours in December to coincide with the Holiday House Tour. You can find a day by day breakdown of the shop times at the Virginia.org website. If you asked for later hours, we encourage you to utilize them in 2019!
Several more artists dropped off goods for the Shop. Hide your wallets while we whet your appetite for opening day next week!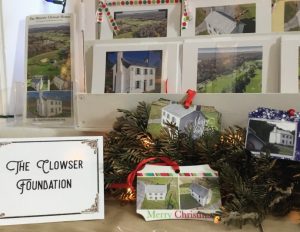 The Clowser Foundation returns with notecards, calendars, and ornaments this year. As in past years, all proceeds from goods sold through the Bough and Dough Shop go back to the Clowser Foundation to save and restore the Clowser House in Shawneeland.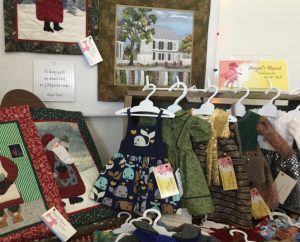 New in 2019 is Angel's Roost Quilts. Not only are there quilted ornaments and wall art of flora, historic buildings, and Santas, but artist Carol Spalding also creates outfits for 18″ dolls. The outfits are cute enough you'll wish they were your size!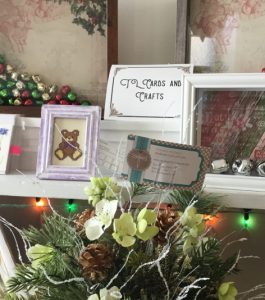 TL Cards and Crafts is back this year with her paper crafts and cross stitch. New this year are shadowboxes and small artificial arrangements. Be on the lookout for a large snowman pillow that is just asking to be hugged! Her cross stitch pieces will be displayed around the house as well.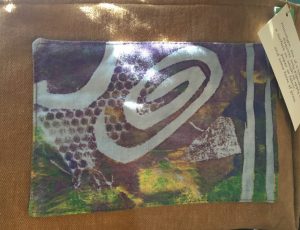 Norma Fredrickson of Fibergig has a selection of one of a kind bags, scarves, hats, and garments for you to see and sample this year. There are also notecards featuring past fabric designs and fabric-covered journals for your special writing.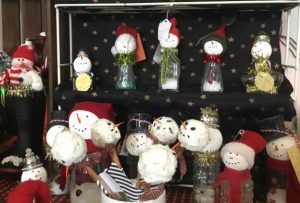 Libba Pendleton has a delightful assortment of felted critters, food ornaments and snowmen salt and pepper shakers this year. In addition, she has hand knit children's winter hats, framed art, and "Christmas in a cup" mixed assemblages.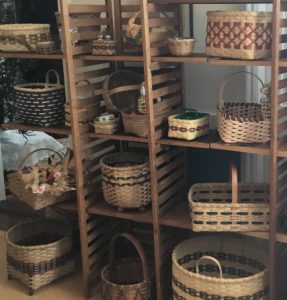 Our favorite Basket Cases Virginia Stultz and Jean Whetzel return this year with their woven ornaments and handmade baskets. Be on the lookout for more antler baskets, a big hit last year, as well as the angels, bells, corn, deer and stars ornaments hanging on their tree.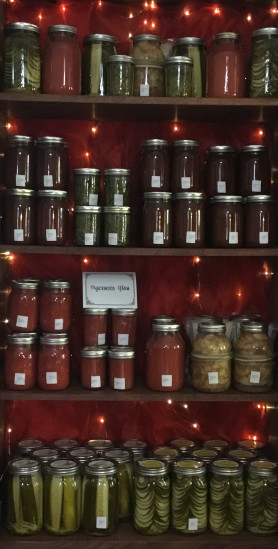 Making their first appearance at the Shop is Hackwood Farm's pickles and applesauce. In addition to the aforementioned, there is also a selection of relish, chili, and apple crisp. By the time the Shop opens, we should have recipes to go with all of their delicious canned goods. While they could not make it in 2019, we think the wait will be worth it!
Thanks again to our artists, and thank you as well to our major sponsor in 2019 Lisa T. McCoig, CPA, PC. Look for their ad in the Holiday House Tour booklets and be sure to check our their services!