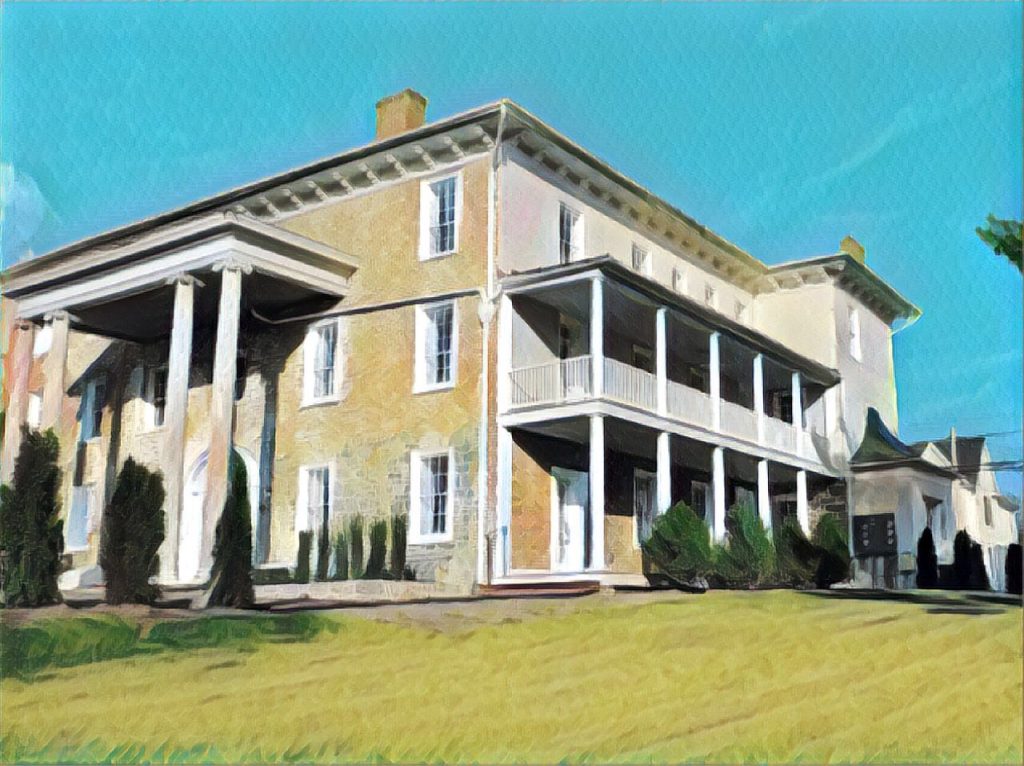 411 North Loudoun Street
The Fort
Stan and Jan Corneal
In 1756, the Virginia House of Burgesses approved the construction of a chain of forts to defend the colony's frontier. George Washington oversaw the construction of Fort Loudoun on this prominent hill overlooking the downtown. The fort, built of horizontal logs filled with earth and rubble, never saw action, and much of the lumber was reused in other local buildings.
By 1830, an oyster house had come and gone on Fort Hill, and Joseph Baker started a girl's school on the site in a rambling, Italianate-influenced structure. It continued as a girl's boarding school until 1925 when the front part of the building was turned into apartments and the school became a day school for boys and girls. On February 4, 1955, there was a fire at the property, which closed the school permanently. Irvan O'Connell bought the former school and converted it to apartments. During the renovation, he incorporated a double story entry portico, several arched fan windows, and the front entry doors from the recently demolished Hotel Jack on Piccadilly Street. The Fort began a new phase of life in 2016 with a renovation to convert the apartments into luxury condominiums. You can find more information at thefortcondoswinchester.com.
Three floors and multiple units of this expansive building will be open for tours, including the furnished unit of Stan and Jan Corneal. Light refreshments will be hosted in the northwestern wing, along with artifacts discovered during the renovation. The building has an elevator for easier access to the upper floors.
Holiday House Tour tickets are on sale now at these following locations in Winchester:
The Final Yard, 33 E. Gerrard St.
Kimberly's, 135 N. Braddock St.
Winchester Book Gallery, 7 N. Loudoun St. (new location from last year!)
Winchester-Frederick County Visitors Center, 1400 S. Pleasant Valley Rd.
Bough & Dough Shop at the Hexagon House, 530 Amherst St.
Online order (adult tickets only) or the PHW website (adult and child ticket options)
The Paypal "continue shopping" glitch mentioned previously appears to have been resolved. Make sure to save your receipt from PayPal until you get your tickets in hand! You can always contact us at 540-667-3577 or phwinc.org@gmail.com if you have difficulty checking out.