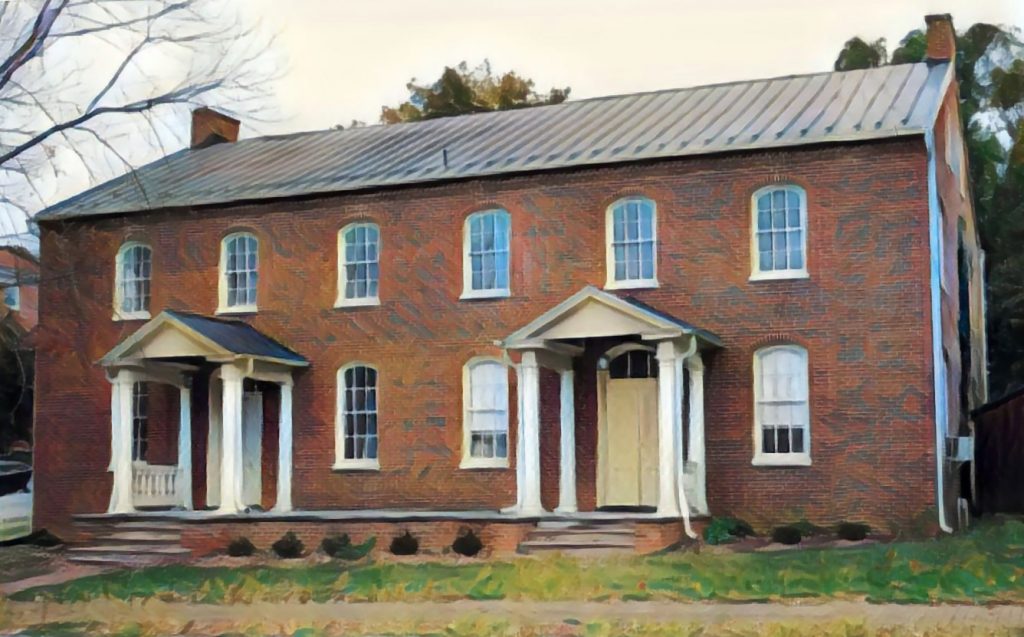 203 North Washington Street
Centre Meeting House
The Centre Meeting House is one of two historic Quaker meeting houses in the Winchester/Frederick County area. It was built in 1872 by Winchester Centre Meeting of the Religious Society of Friends. This is the third meeting house used by Winchester Centre Meeting, which was established in 1776. The first location was at the southwest corner of the intersection of Valley Avenue and Jubal Early Drive until about 1820. The meeting then moved to a location in the 600 block of South Washington Street. After this building was destroyed during the Civil War, the meeting moved to the current location.
At the center of the building is a folding wall, which divides it into two rooms. The paneled wall at one time could be raised or lowered by a crank located above the present ceiling. Until the late 1800s, separate men's and women's business meetings were held. The wall could be raised for meeting for worship or lowered for the separate business meetings.
In 1999, Winchester Centre and Hopewell Monthly Meetings joined together to form Hopewell Centre Meeting. Meetings for worship are held at Centre as well as the Hopewell Meeting House near Clear Brook. The Centre building is also used for many community purposes. You may visit them on Facebook for more information on Hopewell Centre Meeting and their two historic meeting houses.
The Friends have graciously opened their yard at Centre Meeting for Holiday House Tour visitor parking. This will be the closest parking lot available for Fairmont Avenue, as there is no on-street parking for that street. We anticipate being able to serve hot drinks at Centre for our guests as well.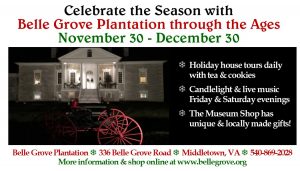 Please thank today's highlighted Holiday House Tour sponsor, Belle Grove Plantation. They are hosting their own holiday event this year – be sure to visit them while you are taking in the Winchester festivities! Click on the ad to see it full size or visit their website and Facebook for all the details.
Holiday House Tour tickets are on sale now at these following locations in Winchester:
The Final Yard, 33 E. Gerrard St.
Kimberly's, 135 N. Braddock St.
Winchester Book Gallery, 7 N. Loudoun St. (new location from last year!)
Winchester-Frederick County Visitors Center, 1400 S. Pleasant Valley Rd.
Bough & Dough Shop at the Hexagon House, 530 Amherst St.
Online order (adult tickets only) or the PHW website (adult and child ticket options)
The Paypal "continue shopping" glitch mentioned previously appears to have been resolved. Make sure to save your receipt from PayPal until you get your tickets in hand! You can always contact us at 540-667-3577 or phwinc.org@gmail.com if you have difficulty checking out.