While we might be deep in Holiday House Tour and Bough & Dough Shop (opening next Friday!), there are still other events you may want to check out.
First, Winchester Ciderworks will be hosting "From Apples to Cider: An Interactive Panel Discussion" on November 15, 6:30-7:30 p.m. at the Winchester Ciderworks, 2504 North Frederick Pike, Winchester, VA. The cider industry is booming, but it owes its local success to our region's rich apple-growing heritage, which began in the Shenandoah Valley over a century ago. Come take part in the discussion among members of some of the oldest apple growing families of the region. From orchard origins through market trials and tribulations, to where things now stand, and where they may go in the future.
Next, if you have been curious about how our upstairs neighbors at the Hexagon House, the Shenandoah Arts Council, are settling in, you will have a chance to see them and their space on Wednesday, Nov. 28, 10 a.m. – 5 p.m. This open house coincides with the Bough & Dough Shop happening downstairs, so before or after you shop, go up and say hi!
As a friendly reminder, Holiday House Tour tickets will go on sale November 16 at these following locations in Winchester:
The Final Yard, 33 E. Gerrard St.
Kimberly's, 135 N. Braddock St.
Winchester Book Gallery, 7 N. Loudoun St. (new location from last year!)
Winchester-Frederick County Visitors Center, 1400 S. Pleasant Valley Rd.
Bough & Dough Shop at the Hexagon House, 530 Amherst St.
And tickets are on sale now online. We are currently holding orders until the program booklets arrive. We would also like to note there is a glitch with PayPal currently in the "continue shopping" button that takes you to the completed checkout page. You have not, in fact, checked out if you did not get an email receipt from PayPal. Make sure you get your email receipt from PayPal or we will not have tickets set aside to mail to you. You can find the button on our website www.phwi.org. You can always contact us at 540-667-3577 or phwinc.org@gmail.com if you have difficulty checking out.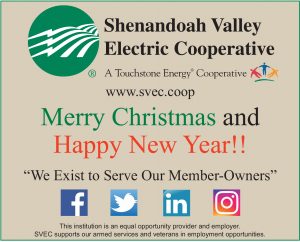 Be sure to thank Shenandoah Valley Electric Cooperative, one of the sponsors for the 2018 Holiday House Tour! Click the ad to view it full size.