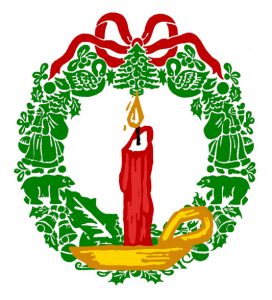 Happy Friday! We are putting the final touches on the printing for this year's Holiday House Tour this week. Remember to mark your calendars for December 1 & 2 between 1-5 p.m. for the site and walking tours in the Fairmont, North Loudoun, and Peyton neighborhood in Winchester, VA.
We will start on our coverage of our sponsors, artisans, and sites next week. In the meantime, we are happy to share our program booklet and our Google map to the event and advance ticket sale locations so you can get a look at what's coming up!
Tickets will officially go on sale November 16 when we anticipate having program booklets in hand and the Bough and Dough Shop opens at the Hexagon House. However, if you would like to get a head start, you may order via PayPal now at our Online Shop and we will begin holding tickets for you.
Note that this year we are offering only afternoon tours, and tickets will be valid for either day. Light refreshments will be served at the tour sites instead of a centralized house this year. A Saturday afternoon and guides to walk people between the sites has been requested many times over the years, so we hope that this will work out well for us and our visitors – don't worry, we will have a feedback survey again at the end of the event so you can tell us how it went. We would also like to note that the Fort at 411 N. Loudoun will have several units open and decorated for tours, and artifacts found on the site will be available for viewing. Remember that the adjoining site of the well at 419 N. Loudoun will only be staffed on Saturday. You can also take a look at our FAQ page and see if that answers any questions you might have – and if it doesn't, please touch base with us at 540-667-3577 or phwinc.org@gmail.com.