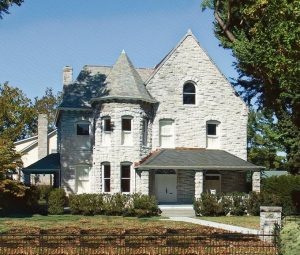 21 South Washington Street
The home of Richard and Melanie Lewis
Decorations by Debbie Langfitt
This Richardsonian Romanesque–style home at 21 South Washington Street was built in 1896 of limestone from the Strasburg area. The Baker family, locally prominent businessmen, built many of the homes in this block of South Washington Street around the turn of the twentieth century. Col. Harry Hunt Baker, mayor of Winchester from 1904-1912, constructed this castle-like building as his home. The interior features floors of long-leaf yellow pine and hand carved woodwork with lotus flower motifs. For many years, it was the home of Eloise Strader and Dorothy Overcash, two local teachers and historians. Richard and Melanie Lewis, the home's third family of owners, have painstakingly restored the magnificent house to its former glory.
The home will be open for Candlelight Tours on Saturday, December 2, 6-9 p.m., and Daylight Tours on Sunday, December 3, 1-5 p.m.