Klay Haus Pottery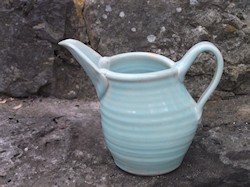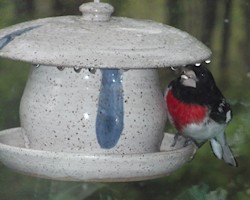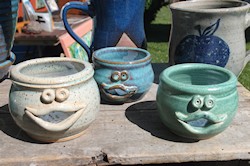 Lin grew up in Western New York, and has been living in Yellow Spring, WV since 1989. She has been creating art with clay for over 25 years. She first studied pottery in Geneseo, NY, then Towson, MD, and other locations. Her works range from mugs and bowls to birdfeeders and birdbaths. Her goal is to make utilitarian pots that are well-crafted, aesthetically interesting, and enjoyable to use. Throwing on the wheel and hand-building with clay allows her to make things by hand that are pleasing to the hand and eye. She also likes to experiment with various techniques and firing methods, exploring the endless possibilities and qualities of clay.
She also enjoys sharing her enthusiasm for pottery with others by teaching classes, where she tries to pass on the skills and enjoyment of working with clay.
She currently teaches non-credit classes at Lord Fairfax Community College, and is a member of the Shenandoah Potters Guild.