The Hexagon House, 530 Amherst St.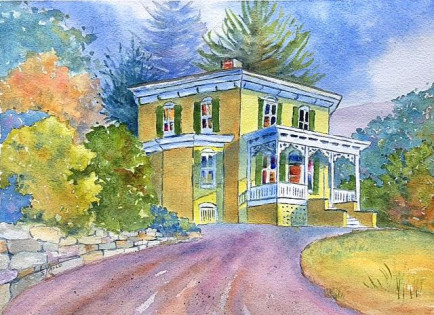 Open to the Public – No Entry Fee
Dates: November 22-December 15
Hours: Tuesdays-Saturdays 10 a.m.-5 p.m.
Sunday, Dec. 1, 8, 15, noon-5 p.m.
Closed for Thanksgiving
The Shop is a boutique-style holiday gift shop on the first floor of the Hexagon House, featuring talented local artisans. You will find unique handmade items, freshly-baked goods, as well as a selection of loose greenery, wreaths, and premade bows for your holiday decorating. This year, ShenArts will also open the upstairs for the Deck the Walls holiday market, Tuesdays-Saturdays.
The Hexagon House will have themed zones—the kitchen with baked treats, condiments, canned goods, and taste-testing samples of select products; the dining room with fine woodworking, glassware, and handwoven baskets; and the parlor with unique handcrafted gifts, ornaments, and artwork. Be sure to look in every nook for delightful surprises!
When you purchase artisan goods or greenery from the Shop, you will be supporting PHW's mission to preserve the best of the area's past. We could not do it without your support!
Thanks to our sponsor in 2019 Eugene B. Smith Gallery. Look for their ad in the Holiday House Tour booklets, their display in the Bough and Dough Shop, and be sure to check out their services!