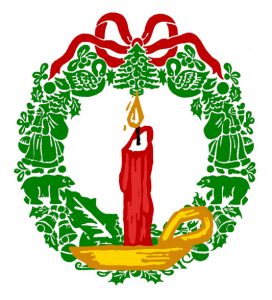 Happy Friday! It has been a busy week for us at PHW wrapping up the Holiday House Tour, working behind the scenes on the website (this will be our first new blog post since updating to the latest version of WordPress, which has been a learning experience all its own), and winding down the Bough and Dough Shop.
If you haven't made it to the Hexagon House yet to see the shop, you are missing out! Be sure to drop in Friday or Saturday between 10 a.m. to 5 p.m., or Sunday between noon to 5 p.m. After that, the over twenty fabulous artists and their goods will be gone until next year!
If you already made it to the Shop, we would love your feedback on the different format and hours this year. If you didn't get a paper survey at checkout, you can find the online version at Survey Monkey. It is a quick four questions specific to the Shop (not the Holiday House Tour). Feedback from this survey will be used for our internal planning for the Shop as well as in finding, selecting, and directing artisans for the types of items they should bring in 2019.
Thank you all, and we hope to see you one more time this weekend at the Hexagon House for the Bough and Dough Shop. Keep this survey in mind when you visit!