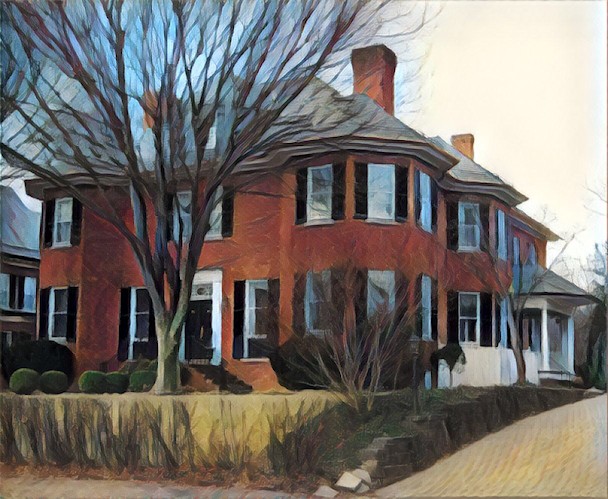 323 Fairmont Avenue
Jay Smith and Allison Young
The visually unique transitional style from Queen Anne to Colonial Revival found in this home was the product of noted Baltimore-based architect Joseph Evan Sperry in 1895. The home is typical of Sperry's work, which reflects the changing taste from the end of the Gilded Age to the early Progressive Era of American history (1870s-1920s). In keeping with Sperry's typical clientele, the home was built for Thomas Jefferson Cooper, a local wholesale grocery businessman. The Cooper family owned the home until 1965.
This prominent dwelling acts as a visual terminus to Peyton Street at its junction with Fairmont Avenue. The paired Queen Anne-style turreted corners flank the Colonial Revival entrance, built about 1965 to replace an earlier rectangular covered porch. Inside, the house has been altered to keep up with the changing times, including removing the butler's pantry to enlarge the kitchen, a redesign of the central hall, and the installation of stained glass in the central hall inner doors by John Orlich. The current owners purchased the home in 2010.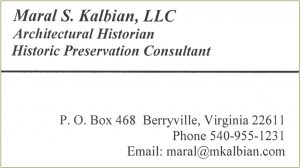 Be sure to thank our final Holiday House Tour sponsor for 2018, Maral Kalbian. Click the image to view her business card full size, and contact her if you have questions pertaining to architectural history and historic tax credits.
Holiday House Tour tickets are on sale now at these following locations in Winchester:
The Final Yard, 33 E. Gerrard St.
Kimberly's, 135 N. Braddock St.
Winchester Book Gallery, 7 N. Loudoun St. (new location from last year!)
Winchester-Frederick County Visitors Center, 1400 S. Pleasant Valley Rd.
Bough & Dough Shop at the Hexagon House, 530 Amherst St.
Online order (adult tickets only) or the PHW website (adult and child ticket options)
The Paypal "continue shopping" glitch mentioned previously appears to have been resolved. Make sure to save your receipt from PayPal until you get your tickets in hand! You can always contact us at 540-667-3577 or phwinc.org@gmail.com if you have difficulty checking out.