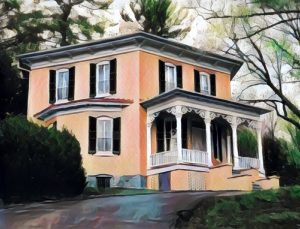 The Bough & Dough Shop at the Hexagon House
530 Amherst Street

November 16-December 9
Tuesday-Saturday 10 a.m.-5 p.m.
Sunday, Dec. 2 & 9, noon-5 p.m.
Closed for Thanksgiving

Open to the public—no admission fee
This unique six-sided house was built between 1871-1874 by James Burgess. While no one knows for sure, he may have built the house to showcase the wares from his furniture business. Today, the Hexagon House is owned and maintained by the Museum of the Shenandoah Valley as office space for Preservation of Historic Winchester and the Shenandoah Arts Council. This holiday season, the PHW offices on the first floor will be turned into a boutique-style holiday gift shop featuring artisans from the Shenandoah Valley and surrounding regions. You are sure to find something delightful or delicious inside!
The Hexagon House will have themed zones—the kitchen with baked treats, condiments, and canned goods, including free samples for taste-testing some products; the dining room with pottery, glassware, and handwoven baskets; and the parlor with unique handcrafted gifts, ornaments, and artwork. Be sure to look in every nook for delightful surprises!
When you purchase artisan goods or greenery from the Shop, you will be supporting PHW's mission to preserve the best of the area's past. We could not do it without your support!
Free parking is available at the top of the hill on a paved lot. Additional parking is available on-street on Hawthorne Dr. Win Tran Amherst line bus stops are available east and west-bound almost directly in front of the Shop, and buses run Monday-Saturday.
Please help us maintain our historic office by wearing flat shoes and keeping drinks and food samples in the kitchen. As a historic building, steps are required to enter. For your convenience, we strongly suggest utilizing the back door, which has only two steps up and a wider door opening.
You can get a sneak peek at the artists and projected layout in our Shop Brochure and website.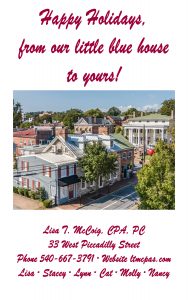 Be sure to visit Lisa T. McCoig, CPA, PC and thank their team for supporting the Holiday House tour in 2018!