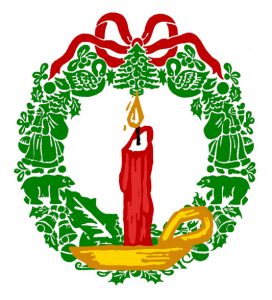 Happy Friday! It has been a hectic few weeks behind the scenes pulling Holiday House Tour together this year. Due to some unforeseen circumstances, there will be some changes to the tour schedule and offerings this year. While we are not 100% finalized, we are now looking at daylight tours only on the afternoon of Saturday and Sunday, December 1 & 2, 2018. Expanding on the experiment last year, there will be guided walking tours to take you past the sites open on the tour; like last year we anticipate the last guides will depart at 4 PM to give you time to complete tours by 5 PM. Details are still being finalized, so expect a final update with site announcements closer to Halloween.
Tomorrow is the grand Unveiling of the Shenandoah Valley Tapestry Project! It will take place Saturday, October 20th from 1:00 PM to 3:00 PM at The Village at Orchard Ridge 400 Clocktower Ridge Dr, Winchester, VA. From the latest news on the parking: "All parking for the event is complimentary and available on a first-come, first-served basis. Please plan to arrive early, so you can take care of parking. It takes 5-7 minutes to walk from some distant parking lots to the venue. Please follow designated pedestrian routes from the lots to the venue. Accessible parking can be found near the main entrance to the Village at Orchard Ridge. Please follow directional signage and directions from event staff for accessible parking locations." We hope many of you will be able to attend and see the tapestry in all its glory!
Also on tap tomorrow is the Green Neighborhood Expo in Old Town Winchester, 11 AM-3PM. Stop by to learn about sustainability practices, energy, soil and water conservation, gardening, native plants to Winchester, recycling, tree care, and more. There will be educational displays, interactive demos and experts available to answer your questions. The event is free and open to the public, brought to you by the City's Environmental Sustainability Taskforce. For more information, email the EST at est@winchesterva.gov.
While you are downtown, you may want to pop in to Winchester Book Gallery's new location at 7 N. Loudoun for a book signing with author John Plashal for A Beautifully Broken Virginia. You can read a bit more about the book at the blog DC by Design between 11AM-1PM.
Thank you all for your patience and understanding as we work on the last bits of Holiday House Tour. We have a lot of changes on tap for the Tour and for the Shop, so expect a few bumps along the road – however, we still believe we have a great tour lined up and are excited to share it with you!