As many of you know, the properties purchased at the corner of Piccadilly and Kent streets were discussed at the City Council work session on Tuesday. That meeting was just to gather information and background prior to the public hearing. As before, we ask that anyone who has concerns about the demolition of the three properties of "most concern" to PHW – 206 N. Kent, 204 N. Kent, and 202 E. Piccadilly – as well as other concerns about the younger but still contributing structures inside the Historic District at 204-210 E. Piccadilly, to speak at the Winchester City Council meeting on Tuesday, August 28th, 6 PM at Rouss City Hall.
We feel it is very important for the neighbors in the North End in particular to share their concerns, as there was no outreach to them prior to this plan being made public. From the discussions we have had talking to people in the neighborhood, it seems the residents' concerns have been boiled down to "parking" and that alone – which is not a good representation of the concerns shared with us privately. PHW does not want to put words into the mouths of actual residents of this neighborhood, so we hope you will share your experience publicly, or at least in private to your city council members in advance of the meeting. If you cannot attend in person or do not feel comfortable speaking in public, you may instead write to:
Kari Van Diest
Deputy Clerk of Council
15 North Cameron Street
Winchester, VA 22601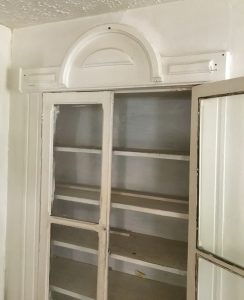 As part of PHW's ongoing investigation into these properties, on Thursday a small group was able to tour most of 206 N. Kent St., the home of James W. Barr. This is the oldest of the three properties on the Kent Street side (circa 1850), but structurally it is absolutely solid inside – the plaster ceilings are not sagging, there is no bounce to the floors or stairs, and any water intrusion has been minimal.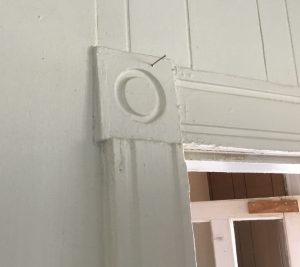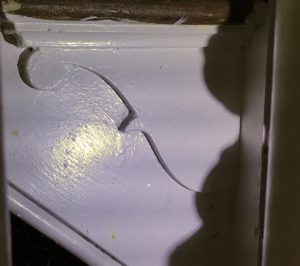 We were able to see the front entry, living room, and what was probably the original dining room on the first floor, the porch to the south side, and an upstairs apartment in the newest addition on the second story. The building has interior woodwork comparable to PHW's Revolving Fund house at 312-314 N. Kent, and has a very nice built-in china cabinet in the downstairs, further supporting the historic documentation this was a fine home for the Barr family. While no one will claim this is "move-in ready," it is a prime candidate to be transformed into a vibrant, contributing building that maintain the character and history of its neighborhood.
While we did not enter 204 North Kent, a closer examination of the existing exterior woodwork leads me to hope PHW or other entities will be able to see the interior and perhaps undertake an exploratory removal of the aluminum siding to see what may be found underneath. The common complaint with this building that we have heard is that it is "ugly." Much like a book, you should not judge a historic house by its aluminum siding. (Compare, for example, 619-621 S. Braddock in 1976 and today.) Historically, the house ties in to the idea of a mixed-use neighborhood, when it was common to live beside or above your business. PHW is in agreement with BAR's assessment that any modification to the demolition should focus on the later concrete block "tower" that sticks off oddly to the north. We would recommend further assessment of the interior and beneath the aluminum siding. It is possible with a bit of patience and exploration to get a better idea of the facade in its heyday and gather more information on its potential reuse before a total demolition.
Last, we stopped into the old Central Garage, now Chopped Corner Tacos, at 202 E. Piccadilly. As expected the interior is much more indicative of a corner store/restaurant than a machine shop. It has been an eatery far longer than it was a garage and has gained significance culturally through that longtime use as a gathering place for the neighbors, workers at the nearby woolen mill, and probably for hungry automobile tourists passing through town. A creative architect could have almost unlimited potential to turn the space into a unique store or restaurant. PHW still firmly believes this building is worth saving and incorporating into future development plans for this neighborhood.
While we did not enter the remaining Piccadilly Street buildings, the large store windows offered a view of the interior. Many of the ceilings show signs of water damage, a common problem with flat or nearly flat-roofed buildings. The most significant portion of these buildings is the brickwork on the facades – the minimal parapets and basket-weave detailing in brick is attractive and indicative of commercial architecture around 1940. Again, PHW is in agreement with BAR's assessment on these buildings. While these are of "lesser concern," we recognize this era of architecture is still underappreciated and are happy we are having discussions concerning their future along with the three properties on the North Kent Street side that met the 75 year threshold for public hearings.
To reiterate, PHW is not against development, adding density, or even some selective demolition inside or adjacent to Winchester's Historic District. We are, however, very concerned that the plan as presented continues to erase the history of the Virginia Woolen Company and the buildings associated with the people and families who worked there and in related services. We hope that any developer or architect looking at this project can offer a halfway point between demolishing everything or giving up on this corner and not attempting to continue its improvement. Preservation and development are not a mutually-exclusive, zero-sum proposition and should not be pitched as a game of who wins, but finding acceptable compromises. It is possible, it has been done before, and it should be done again for the Piccadilly Street entrance corridor.