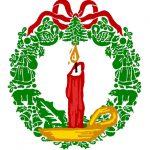 As we near the last hours before the 41st annual Holiday House Tour kicks off, here are a couple things to keep in mind:
If you have questions, the best place to find someone well-versed on the House Tour Saturday and Sunday is the Bough & Dough Shop at the Winchester Little Theatre, 315 W. Boscawen St. The Shop is open Saturday 9 AM-5 PM and on Sunday 11 AM-5 PM.
The normal PHW phone number (540-667-3577) and email (phwinc.org@gmail.com) will not be staffed from Friday-Sunday. Should the weather or some other disaster impact the tour, we will try to push notifications on Facebook, the PHW blog, and the PHW voicemail message ASAP.
The hours for the house tours are Saturday (Preview Party and Candlelight Tour) 6-9 PM, and Sunday (Daylight Tour) from 1-5 PM.
Tickets are still available at the advance ticket sale locations:
The Final Yard, 33 East Gerrard Street
Kimberly's, 135 North Braddock Street
Wilkins' Shoe Center, 7 South Loudoun Street
Winchester Book Gallery, 185 North Loudoun Street
Winchester-Frederick County Visitors Center, 1400 South Pleasant Valley Road
Tickets will also be available at the Bough & Dough Shop on December 2 and 3. Remember, ticket prices are $20 at the houses on Sunday. Tickets will still be offered at the advance sale price of $15 at the Bough & Dough Shop on Sunday.
Admission to a single site on Sunday is $5. Pay at the door of the house you wish to visit.
There will be complimentary warm drinks at the Bough & Dough Shop for all visitors as in previous years.
Look for the red PHW sandwich board for the guided tour meeting spot at the Winchester Little Theatre on Sunday. Tours will leave every half hour from 1-4 PM (last tour leaves at 4 and finishes at 4:30). There will likely be two to three guides on hand to break into smaller staggered groups, as needed.
Costumed carolers from Winchester Little Theatre, organized by Jim and Kendra Getaz, will once again stroll the streets and serenade tour-goers at the open houses on Sunday with festive holiday music. Carolers sing 4 or 5 holiday standards at each stop. They will start and end at the Winchester Little Theatre, and travel to the houses open on the tour.
We are also expecting Jim Moyer of the French and Indian War Foundation to be on hand at 420 North Loudoun Street in his period reenactment uniform to help tell the story of Fort Loudoun on Sunday afternoon.
The weather forecast is partly cloudy on Saturday, to sunny on Sunday. Temperatures are expected to be in the low 50s, falling to the low 30s overnight. No precipitation is expected and winds should be mild.
Have a safe and happy Holiday House Tour, everyone!