The heart of the Bough & Dough Shop are our vendors who lend their unique talents to the tour. Proceeds from the sale of Shop items will benefit the Winchester Little Theatre Restoration Campaign and PHW. Do some holiday gift shopping or pick up some sweet treats from these local artisans:
The Clowser Foundation

The Clowser Foundation will have prints of the Clowser House by Michael Martin available for purchase. All proceeds from the sale of the Clowser House prints goes back to the Clowser Foundation for their effort to preserve this historic landmark of Frederick County.
For more information of the Clowser Foundation or to make a direct donation, visit their Facebook or their website clowserfoundation.org.
Lin Hausneckt-Klay Haus Pottery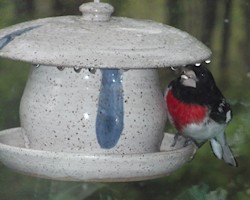 Lin has been creating art with clay for over 25 years. She first studied pottery in Geneseo, NY, then Towson, MD, & other locations. Her works range from mugs & bowls to birdfeeders & birdbaths. Her goal is to make utilitarian pots that are well-crafted, aesthetically interesting, and enjoyable to use. She currently teaches non-credit classes at Lord Fairfax Community College, and is a member of the Shenandoah Potters Guild.
John and Wendy Venskoske-J&W Farm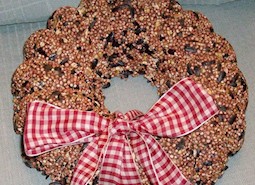 J & W Farm started with the idea of adding value to local agricultural products. The signature wreaths use a special blend of birdseed from two local feed stores and custom make them with seasonal ribbon and/or special requests. Our Holiday Birdseed Wreaths are packaged for gift giving and shipping! Be on the lookout this year for cider syrup, as well!
Visit J & W Farm online at www.jandwfarm.com and Facebook.
Jennifer C. Komaromi

Jennifer hand paints unique Christmas bulbs – no two ornaments are the same! Each is executed in acrylic paint and sealed with a clear finish to protect the artwork. Her subjects range from kid-friendly to fantastical and are sure to bring whimsy and delight to your Christmas tree.
Jose Montero—"Madeira" hand-carved woodwork

Jose has admired trees and loved wood. After his mother-in-law asked if he could make her some spoons from scraps, a new line of products was born and has been refined over the years. Jose has expanded from spoons to bowls and other utilitarian accessories. Most of the wood comes from the Montero wood lot, trees that have been damaged by storms or attacked by insects.
You can find their products at craft fairs in Virginia, West Virginia and at Farm Markets. Our spoons are in gift shops at Belle Grove Plantation, and the Museum of the Shenandoah Valley in Winchester, Virginia.
Preservation of Historic Winchester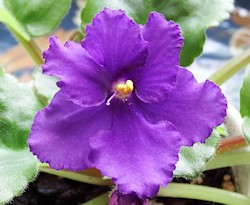 If you have ever admired the African Violets Sandra Bosley grows at the PHW office, this is your lucky year. Propagated violets from the classic and hardy purple and bi-color white and purple office violets are being sold for the very first time. There is also a selection of "mystery" violets that can be purple, white, lavender, blue, or bi-color white and purple, or white and pink – it's a mystery until they bloom! There will also be young pregnant onions started from the PHW office plant, which is at least twenty years old.
In addition to the cheerful houseplants, PHW will also be offering a selection of prints, including the Community Food Store limited edition print, and both sets of eight sheets and individual map sheets of the 1897 Sanborn fire insurance maps which were used in the 1976 architectural surveys. Looks for other books, small handcrafted ornaments, and crocheted toys, too.
Cyndie Rinek—Blooming Hill Garden and Gift Shop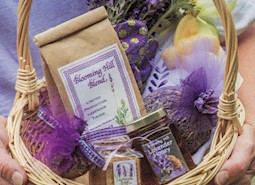 Cyndie Rinek, along with her husband Peter, a landscape architect and arborist, is the owner of Blooming Hill Lavender Farm and Gift Shop, located in the tiny Western Loudoun County hamlet of Philomont, Virginia. Over the years and through hard work as well as a lot of trial and error, Cyndie has taken what was once an interest in flowers and plants, to a passion and then turned it into a business specializing in lavender at her home, aptly named Blooming Hill. She now has a collection of one thousand lavender plants in almost one hundred different varieties and also tends the many formal, informal and herb garden beds that fill the 4 1/2 acres patch of paradise with a view of the Blue Ridge that make up Blooming Hill.
Blooming Hill is open to the public on Fridays and Saturdays and other days by appointment, April through December. Visit Blooming Hill online at bloominghillva.com.
Jackie Tobin—Handcrafts of the Shenandoah Valley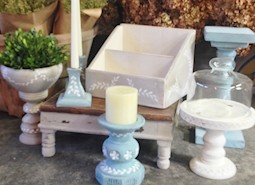 Jackie has been creating something for as long as she can remember. Encouragement and inspiration came from her multi-talented grandmother, who not only taught her to sew, but provided her with self confidence and unlimited materials to make things. Create something from nothing? Of course!
Over the years, Jackie has participated in many Shenandoah Valley Craft Fairs and Shops. She was a partner in Stone Soup Gallery on Winchester's walking mall, where you might find her creating hand woven baskets or painting detailed images on newly designed Holiday ornaments. Currently, she has added upcycled wood creations to her palette, greenery arrangements and dried flowers from her garden, and so much more. Visit Jackie at her Facebook page.
Emily Whitesell—The Homestead Farm at Fruit Hill Orchard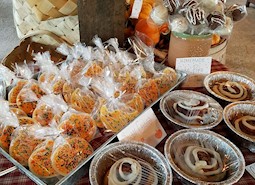 Emily will be doing "double duty" this year as both our purveyor of baked treats and locally handmade items. The Homestead Farm has been in her family since the early 1800s when their great, great, great grandfather James Thwaite started farming at the location. There will be a variety of gift items from the farmer's market, like candles, soap, body cream, body/room spray and milk bath tubes. Even more tempting will be the selection of freshly baked sugar cookies, gingerbread men, rice krispie treats, small and large cakes, truffles, cake pops, pies, candied nuts and peppermint bark.
Visit the Homestead Farm at Fruit Hill Orchard Tuesday-Saturday, 10 AM-6 PM at 2502 N. Frederick Pike, Winchester, Virginia, or online at Facebook and www.thehomesteadfarmatfruithillorchard.com.
Nate Windle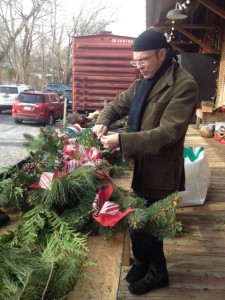 Nate Windle will return again with fabulous finished greenery creations. In addition to the traditional fresh greenery wreaths and arrangements you have come to expect at the Bough & Dough Shop, Nate will provide some artificial greenery decorations so you can enjoy his artistic skills for years to come. If you are making your own arrangements from the bulk greenery, you can also expect a selection of bows made by Nate that are suitable for adding the finishing touch to your handiwork.
Fresh Greenery Team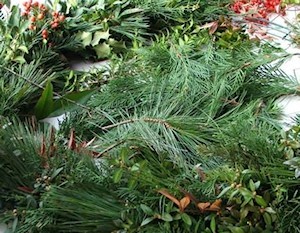 Outside on the deck of the Winchester Little Theatre awaits a bounty of freshly-cut greenery for your holiday decorating. Buy greenery in bulk by the bag at the Bough & Dough Shop this weekend, including pine, juniper, magnolia, holly, nandina, boxwood, and cryptomeria. Greenery is priced $3 by a small bag, $6 by a large bag, and magnolia is priced by the branch based on size. Other greenery or related items may also be available.
Special thanks to our greenery cutters Cheryl Crowell, Donna Downing, Pam DeBergh, Nancy Murphy, and Mary Riley, and to our greenery sources Howard and Joan Lewis, John Rosenberger, Winkie Mackay-Smith, Beth DeProspero Elgin, the Bauserman family, Mount Hebron Cemetery, and Valley Health/The Winchester Medical Center.