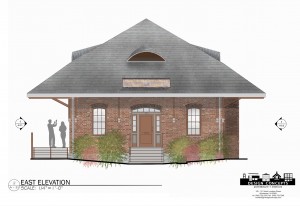 The Bough & Dough Shop
Winchester Little Theatre
315 West Boscawen Street
Open to the Public – No Entry Fee
Hours:
Saturday, Dec. 2, 9 a.m.-5 p.m.
Sunday, Dec. 3, 11 a.m.-5 p.m.
The Winchester Little Theatre occupies a former Pennsylvania Railroad freight station built circa 1890. The hipped roof over the brick exterior provides cover for the freight loading dock. The interior was modified to accommodate live theatre performances by the Winchester Little Theatre. The Theatre moved into its railway home in 1974 and has provided critically-acclaimed, professional-quality live theatre to the community ever since. 
Since 2011, the Theatre has been the home of PHW's Bough and Dough Shop during the Holiday House Tour weekend. The Shop is a holiday gift shop run by volunteers from PHW and Winchester Little Theatre featuring talented local artisans. You will find unique handmade items for holiday gift-giving, freshly-baked goods to enjoy now or use at a holiday party, as well as a selection of freshly cut greenery, wreaths, and arrangements for your holiday decorating.
This year, PHW will split the proceeds from the Shop with the Winchester Little Theatre Restoration Campaign. PHW is committed to seeing this local landmark restored and remain a vital arts hub for the Winchester-Frederick County community. You may also buy a print of the Clowesr House. The Clowser House prints will 100% benefit the Clowser Foundation, which is working to save this home from years of neglect and deterioration.
When you purchase artisan goods or greenery from the Shop this year, you will be helping us to continue our mission to preserve the best of the area's past. We could not do it without your support!
Stay tuned for tomorrow's post, highlighting our artisans and fresh greenery.