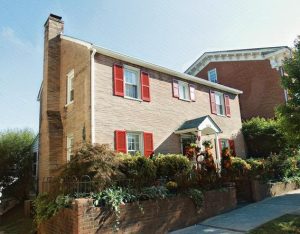 420 North Loudoun Street
The home of Karen Thomason
While the home is new, the built history on this site extends back to the construction of Fort Loudoun in 1756. The Colonial Revival-style home was built circa 1954 in the approximate area of Fort Loudoun's northeast bastion. This symmetrical three-bay structure shows a conservatively decorative flourish of a smaller central second-story window, affixed shutters, and a small porch with square posts and a simple arched gable end. Houses like this one have provided the first opportunity of home ownership to countless Americans and are now joining the ranks of historically significant buildings in Winchester's Historic District.
Karen Thomason has created a botanical oasis inspired by her membership in the Front Royal Garden Club. The home is decorated in a French Country design, with 18th century antiques throughout. Her interior decorations will include two primitive Christmas trees, magnolia, variegated holly, Leyland cypress, white pine and handmade wreaths and bows. The outside of the home will be enlivened with white pine roping along the wrought iron fence, and the northeast bastion will be illuminated for viewing.
The home will be open for Candlelight Tours on Saturday, December 2, 6-9 p.m., and Daylight Tours on Sunday, December 3, 1-5 p.m.