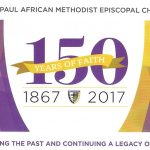 From our friends at Saint Paul African Methodist Episcopal Church on North Loudoun Street comes an invitation to their two capstone events to celebrate their founding 150 years ago.
On October 28th is the Anniversary Black Tie Gala. Mr. Rodney "Johnson" Ruffin, Vice-President of Business Development of Thompson Hospitalities will be Master of Ceremonies; Mr. Kelly Wright, Fox News Anchor will be the keynote speaker; and Mr. Jarohn Grandstaff, saxophonist, will be the musician. The event will be held at 5 PM at the Shenandoah Valley Golf Club, 134 Golf Club Circle, Front Royal, VA 22630. Tickets are available for $50; contact Cynthia Banks at 540-539-8262 for ticket information.
The following day, October 29th, the 150th Anniversary Worship Service Celebrations will be held at 10:30 AM and 3 PM at Saint Paul African Methodist Episcopal Church, 428 North Loudoun Street, Winchester, VA. The services will be held in the same building which was erected in 1878 and majorly renovated in 2005.