315 West Boscawen Street
The Winchester Little Theatre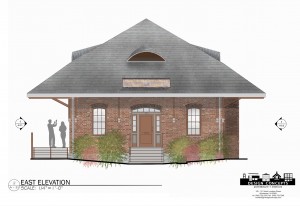 Hours
Saturday, Dec. 5, 9 a.m.-5 p.m.
Sunday, Dec. 6, 11 a.m.-5 p.m.
Open to the Public – No Entry Fee
Complimentary hot cider and coffee for visitors
The Winchester Little Theatre occupies a former Pennsylvania Railroad freight station built circa 1890. The hipped roof over the brick exterior provides cover for the freight loading dock. The interior was modified to accommodate live theatre performances by the Winchester Little Theatre. The Theatre moved into its railway home in 1974 and has provided critically acclaimed professional-quality live theatre to the community ever since. 
Since 2011, the Theatre has been the home of PHW's Bough and Dough Shop during the Holiday House Tour weekend. You will find a large selection of unique handmade items by local artisans for holiday gift-giving and an extensive amount of fresh-cut greenery for your holiday decorating.
This year's proceeds from the Shop will benefit the Winchester Little Theatre Restoration Campaign. This Restoration to date has insured the structural integrity, repointed the bricks, freshened the exterior and now anticipates the application of a Virginia Department of Historic Resources-approved roofing surface.
PHW is committed to seeing this local landmark restored and remain a vital arts hub for the Winchester-Frederick County community. When you purchase artisan goods or greenery from the Shop this year, you will be helping Winchester Little Theatre realize their dream of restoring the Pennsylvania Freight Station to its exterior appearance circa 1890.
The Shop is able to process credit cards as well as cash and checks.
Curious about the vendors at the Shop this year? Stay tuned for future posts on the artisans over the next week, or jump right in to the Featured Artisan page at PHW.